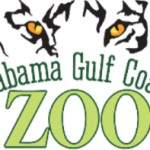 Website Alabama Gulf Coast Zoo
Education. Conservation. Adventure. Community.
Position:
This is a seasonal entry-level position in the Guest Engagement division of our Animal Care department. The primary responsibility of this position is facilitating camp curriculum, including activities, hands-on animal interactions, and arts and crafts for campers- Kindergarten through 8th Grade. They will also assist with before and after-care supervision, lunch supervision, check-in/out, and craft preparation. This position is expected to work well within a team and to enthusiastically deliver hands-on educational information to campers. A positive attitude, interest in animals and conservation, and a passion for education are key to being successful in this position.
Key Responsibilities of the Camp Counselor:
Enthusiastically engage campers by leading them through animal care, environmental, and conservation education lessons related to the camp's daily/weekly theme
Lead Zoo tours, hands-on projects, games and activities for age groups ranging from Kindergarten- 8th Graders (5-14 years).
Supervise and motivate groups of 15-20 children per week, including managing group behavior acting as a positive role model.
Facilitate extended-care games and activities with campers.
Document all camp issues as needed, including camper behavior and incidents.
Complete assigned responsibilities including set-up, clean-up and program maintenance. Assist with daily check-in and check-out.
Supervise lunchtime activities.
Build and maintain a good working rapport with co-workers, campers, and parents.
Work in a team environment, creating a safe and fun experience for children.
Help maintain clean and safe spaces and follow all safety protocols.
Work with and mentor Volunteers (Both Teens and Adults)
Other duties as needed, including cooperation with departments outside of animal care (maintenance, retail, amusements, etc.)
The above listed duties are general statements of required major duties and responsibilities performed on a regular and continuous basis. They do not exclude other duties as assigned.
Experience:
Preference will be given to applicants that have experience working with animals or children.
Must be comfortable with engaging guests, public speaking and professional writing
Education:
High School Diploma or equivalent preferred.
Preference will be given to candidates who are pursuing an education in conservation, zoology, biology, animal science or related field.
You must sign in to apply for this position.
---