Full Time
Applications have closed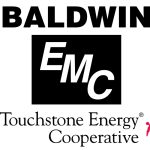 Description of Responsibilities:
• Supervises activities of the South Baldwin District Engineering Department.
• Administration of construction contracts and documents.
• Responsible for managing the design, staking and inspection of all line extensions in the district, both overhead and underground, not associated with long-range work plans.
• Responsible for managing the design, staking and inspection of distribution maintenance, street and area lighting systems, and line relocation projects.
• Responsible for oversight of load calculations for all projects within the district.
• Plans, coordinates, and inspects the construction of distribution circuits.
• Makes drawings and calculates clearance over railroads, highways, telephone, and power lines.
• Provides oversight and assistance in preparing cost estimates.
• Works with representatives of municipalities to evaluate and implement requests for new and/or improvements in the electric distribution service requested.
Minimum Requirements:
• Bachelor's degree in Electrical Engineering required or an Engineering degree with eight years of experience with a power distribution company will be considered. Fundamentals of Engineering certification preferred.
• Minimum of five years prior experience and a minimum of three years supervisory experience.
• Experienced in distribution engineering and design and be familiar with engineering management functions.
• Must be able to effectively interact with members and the general public.
• Ability to manage multiple projects and coordinate schedules.
Working Conditions:
• Work is performed both inside and outside in all weather conditions. Extended hours may be required, as well as occasional weekend work and some overnight and/or out-of-state travel.
EQUAL OPPORTUNITY EMPLOYER AND PROVIDER
It is the policy of Baldwin County Electric Membership Corporation to be in full compliance with the Americans With Disabilities Act. In accordance with the Act, we will make reasonable accommodation to any employee who needs such accommodation, whether a new hire or a current employee, assuming that the person is fully qualified for the position.
Applications are being accepted at the Alabama Career Center until Tuesday, March 21, 2023. To apply, please visit alabamaworks.alabama.gov and enter Job ID number 3389838 in the keyword search field. Interested candidates can also visit our website at www.baldwinemc.com/about/careers-and-employment/.