Work Shift
By Leslie Patton
Three Years After Covid Hit, Restaurants Are Still Desperate for Workers
More than 60% of establishments said in a recent survey that they're understaffed.
Restaurants across the US are still desperate for workers. Photographer: Hannah Beier/Bloomberg
Americans are rushing back to restaurants after staying away during the pandemic. To catch that demand, chains are opening thousands of new locations. It has the makings of a boom, except for one glaring problem: there aren't enough workers.
Three years after Covid hit the US, the $900 billion US foodservice industry still can't recruit enough employees. It has boosted pay and benefits, but that hasn't worked. Chains including Jack in the Box Inc. and Domino's Pizza Inc. say the labor woes are hurting business. In a recent survey, more than 60% of establishments said they're understaffed.
Like much of the US labor market at the moment, the picture that official data paint of the restaurant industry can look contradictory. On one hand, foodservice employment levels are approaching where they were in early 2020 and the number of restaurants is still below pre-pandemic counts, implying there are plenty of workers to go round. Yet for every two job openings in foodservice, there's only one unemployed person to potentially fill the gap, and job openings spiked to 1.7 million in December.
The strong employment numbers don't account for sales growth that's fueling a need for extra workers, said Anna Zhou, an economist at Bank of America Institute who follows labor market trends. US restaurant and bar sales are projected to increase about 6% this year to nearly $1 trillion, according to the National Restaurant Association.
"Despite the really strong gains in the labor market, leisure and hospitality continues to be the sector where you haven't seen the full recovery," said Zhou. "They continue to struggle to fill every opening."
Restaurant Openings Surge US job vacancies in the sector are well above national average Source: US Bureau of Labor Statistics
Note: Vacancy rate is openings divided by jobs in that category.
Millennials and Gen Xers, mostly working in restaurant or retail jobs, make up a significant chunk of the more than 2 million people still missing from the labor force, Bank of America research showed last month. Many left to take care of children or elderly parents, quit because of a disability or disease or relocated to areas with lower costs of living, Zhou said, all long-term structural changes that leave restaurants desperate for cooks, cashiers and servers.
Even before the pandemic, many restaurants found it hard to hire. Pay is usually low and roles can be taxing, with staff on their feet, working in hot kitchens and dealing directly with the public. Now, the industry has been forced into an unprecedented growth spurt and must claw back the millions of jobs that were lost in 2020: food and beverage outlets are projected to have the largest employment jump of any industry for the decade through 2031, data from the Bureau of Labor Statistics show.
Burger King and Qdoba franchisee Matt Herridge's staff have been quitting, too stressed and tired to work in his 11 restaurants across West Virginia and Ohio. One Burger King general manager, who'd worked there for more than a decade, left during the pandemic for a 9-to-5 office job at an auto servicing company, desperate for predictable hours and no night shifts.
Matt Herridge owns about a dozen fast-food chains in Ohio and West Virginia and said finding enough staff is still difficult.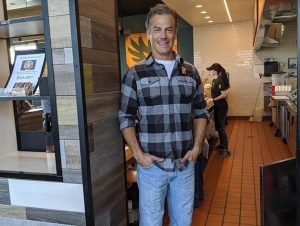 "The way she described it to me — in tears even — 'My son wanted to know how often he will get to see me.' There's a lot of stories like hers," Herridge said. "Just folks who went out and found other types of work that felt a little bit more stable to them."
At Domino's, pizzas are taking longer to get to customers than they did in 2019 because the company can't find enough delivery drivers. About 70% of Jack in the Box locations are operating on fewer store hours despite a wage increase last year.
"People don't really want those jobs anymore," said Lightcast senior economist Rucha Vankudre. "Given how much choice there is in the market right now, people are kind of moving away" from restaurants, she said.
Bouncing Back
The restaurant industry's revenue may hit almost $1 trillion this year.Source: National Restaurant Association*Projected
Part of the problem is pay. The average hourly wage for a fast-food cook in the US was $12.25 in May 2021, compared to $21.22 for a construction laborer or $17.28 for a data entry role, government data show.