Full Time
This position has been filled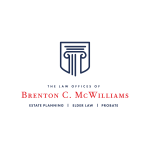 Website The Law Offices of Brenton C. McWilliams - Orange Beach
We're looking for an enthusiastic, energetic, professional Receptionist to join our team! The Law Offices of Brenton C. McWilliams is an Estate Planning, Elder Law, and Probate law firm with several offices in Baldwin County, Alabama. We are growing and are excited to add another team member to help us deliver first-class legal services to our clients.
Are you always hospitable, warm, and welcoming? Do you love helping people? Are you a positive person who would like to work in an enthusiastic team atmosphere? Are you proactive and self-motivated?
We are looking for a Receptionist for our main office in Orange Beach who will provide a great first impression to potential and current clients either on the phone or in person. This is a very important position. You'll play a crucial role as the face and first point of contact with the law firm. The ideal person is friendly, congenial, and inviting. Our office is open from 8-5 Monday through Thursday, and 8-4 on Fridays.
Responsibilities
Serving as the initial point of contact at the law firm, answering the phone and greeting in‑person visitors
Checking in with clients and other individuals to gather information
Maintaining records of communications
Trips to the post office and other close-by locations
Scheduling and confirming appointments and maintaining calendars
Communicating in writing such as through emails, letters, and other correspondence
Qualifications
You must have a professional appearance and exceptional interpersonal skills
Enjoy being warm, engaging, friendly, empathetic, and passionate about helping people solve problems
Unwavering integrity, honesty, and trustworthiness including the handling of confidential and sensitive information
A willingness to do whatever it takes to help the team as a whole
An ability to work independently with minimal supervision
A positive attitude, driven to learn, grow, and always treat others with respect and professionalism
A self-starter that will address team and client needs in a quick and successful manner
Proficiency with the use of a computer (tech-savvy) and knowledge of computer programs such as saving documents in folders, typing, Word, Excel, Gmail, Google Drive, Google Calendar, and case management software
Be willing to innovate more efficient ways of doing things and open to change
A 20 to 40-hour-per-week schedule
Compensation
$16 – $19 hourly
About The Law Offices of Brenton C. McWilliams
The Law Offices of Brenton C. McWilliams is an estate planning, elder law, and probate estate administration law firm serving clients in Baldwin and Mobile Counties from our offices in Orange Beach, Foley, and Daphne. We are enthusiastic problem solvers with a passion for helping people. We are growing at a steady rate. Individual health insurance and bonus incentives are provided as part of the compensation package.
All submissions will be kept confidential.