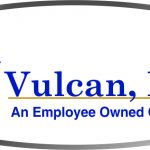 Website Vulcan, Inc.
Vulcan, Inc.
Vulcan is hiring for General Production Workers in multiple Plants!
Minimum Qualifications and Vulcan's Work Environment
This Job Classification, General Production Worker, requires the employee to work in all phases of the Company's manufacturing process which includes, but is not limited to, the operation of machinery and equipment, material handling, production, shipping, and janitorial duties.  The work site depends upon the Company's production requirements.
The employee must be physically able to work 8 to 12 hour shifts in the heat and humidity commonly found in Foley, AL during the year.  In an average 8 hour shift, an employee at a work station should be able to sit for approximately 0.5 hours, stand for 6.5 to 7.0 hours and walk for 1.0 to 1.5 hours. The employee must be able to work any scheduled shift within a 24 hour period, as required by their plant.
The employee must have the ability to read, write, calculate, count, and follow oral and written instructions.  Must have ability to learn use of scanners, tablets and barcode printers with PLEX software.
Based on business and customer needs, you may be reassigned from time to time to perform a different job.  If so, you will be required to meet the job requirements in the job description for that specific job.
Production jobs at Vulcan involve working in a plant environment that may require walking or standing for prolonged periods; the use of hands and fingers to perform a variety of tasks; the ability to climb, bend, reach at least 6 feet from ground, pull, push, tug, balance, stoop, kneel, crouch or crawl; and the use of heavy production machinery and lifting devices that range in size and scope. Essential job functions of each job generally are performed in an environment with a range of temperatures, noise levels, and potential hazards that require caution, the use of required Personal Protective Equipment (PPE), and strict adherence to established protocols.  Certain jobs may require lifting an average of 50 pounds with or without assistance.
You must sign in to apply for this position.
---