Full Time
September 1, 2023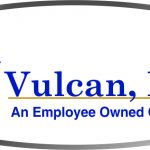 Metal Fabricator- Vulcan Aluminum
Primary Purpose:
The purpose of the General Production Metal Fabricator is to ensure the continual operation of the plant pressing processes through effective stamping, collection and transporting of customer orders.  Hours are Monday to Friday 7:00am to 3:30pm.
Duties:
1.  Facilitates the completion of daily Plant production goals by operating the metal fabricating press based on the directions provided by the Die Specialist and the specifications detailed in the manufacturing orders.
2.  Continually monitors the operation of the metal fabricating press machine looking for and listening for any problems or issues that could pose a potential hazard or interrupt the production process.
3. Periodically reviews fabricated pieces based on order type and volume by taking a sample of fabricated parts and checking against the specifications in the manufacturing orders and informs the Die Specialist of any problems.
4. Places completed products onto the corresponding storage palette and includes a copy of the manufacturing order on top of the each pallet ensuring the corresponding paperwork is correct.
5. Performs minor trouble shooting on metal fabricating machines which includes the visual inspection of parts, placing of the dies and the status of all safety devices and reports any problems to the Die Specialist or Superintendent.
6. Collects and places all pieces of scrap and defective metals into the corresponding bin so it can be transported to the designated location for recycling.
7. Ensures that all work areas are clean and free of any debris that can interfere in the production process or that could potentially cause a hazard for individuals in the Plant.
8 .  Maintains communication with the Plant Superintendent, Die Specialist and Material Handlers regarding the status of metal fabrication production activities and any changes or updates that may be required.
9.  Provides backup support to other metal fabricators and Material Handlers performing their functions effectively as needed or required ensuring that all applicable safety protocols are followed.
10.  Ensures that all required paperwork and reports are completed and submitted based on established guidelines.
11.  Performs other functions and duties as needed or requested.
12.  Adheres to all applicable attendance and safety policies.
Qualifications:
Ability to read and comprehend applicable part prints and similar schematics.
Ability to read and follow complex production orders and understand applicable trouble shooting practices.
Ability to utilize heavy equipment based on established protocols and job related needs.
Knowledge and ability to use applicable tools and measuring devices.
You must sign in to apply for this position.
---